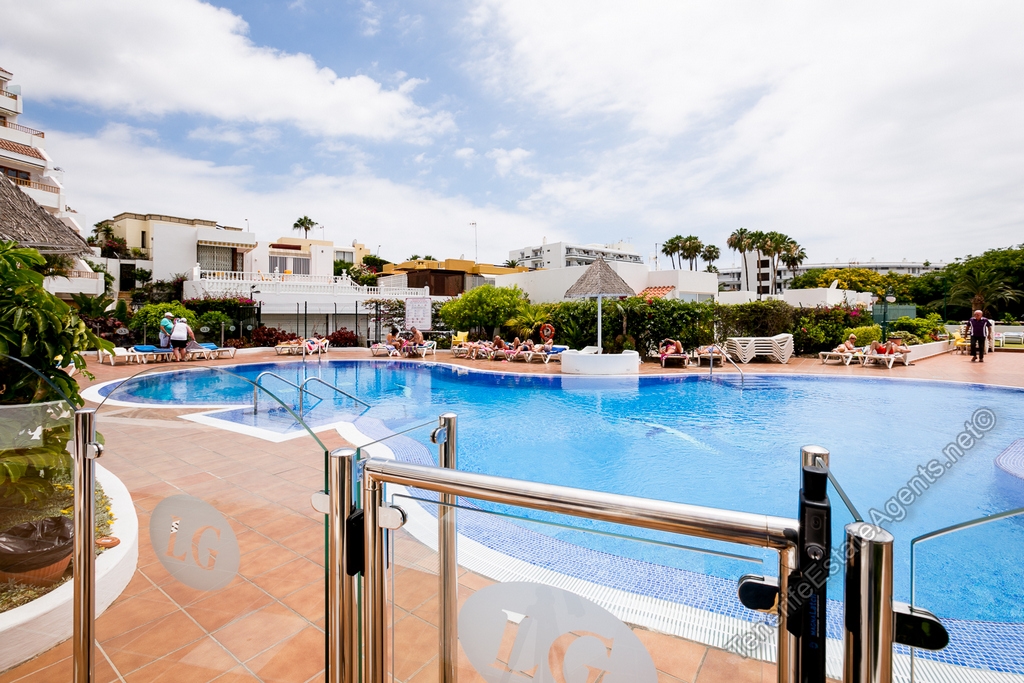 Type: Apartment
Area: San Eugenio Bajo
Complex: Los Geranios
Price:
Mortgage available:
Mortgage per month:
Cash deposits needed:

Interior m2: 36
Exterior m2: 42
Bedrooms:
Bathrooms: 1
Balcony/Terrace Yes
Garden: Comunal
Community Fee per month: 103€

Property Photos
Bargain priced Studio Apartment near Puerto Colon Beach
This great studio apartment is situated in the popular Los Geranios complex in San Eugenio Bajo, a sought after complex in one of the best areas of South Tenerife.
This studio apartment is well laid out with the fully fitted bathroom and kitchen towards the rear of the property and the sleeping area and large terrace to the front. The kitchen has been refurbished and comes fitted with a four ring hob, arge firdge freezer and even a washing machine. Although this is a studio apartment the ownwers have managed to include a small sitting area for relaxing in the property. The bathroom has also been refurbished comes fully fitted eith a vanity unit and walk in shower. The sleeping area is furnished with a large double bed and from here you have direct access on to a massive 42m2 terrace. This terrce are overlooks the gardens of the complex so ther is no noise from the swimming pool area or bars.
The Los Geranios is a 3 star apartment complex that is very popular with both holidaymakers and residents. There is a reception area, heated swimming pool, laundry service, pool room and a good pool bar that serves drinks and food, all on site.
The complex is situated in the sought after San Eugenio Bajo area of Las Americas. Directly outside the complex you will find an array of bars, restaurants and cafes. At a 2 minute walk you will find the Centro Commercial San Eugenio with a great selection of shops and of course a large supermarket. The Internationally renowned Puerto Colon is around a five minute walk away where you can participate in one of the many water sports available or even take a boat trip to see the wales and dolphins.
Looking for a centrally locate property with everything you could possibly need for a fantastic holiday nearby? Then this property is for you!!!!
Make an enquiry about this property