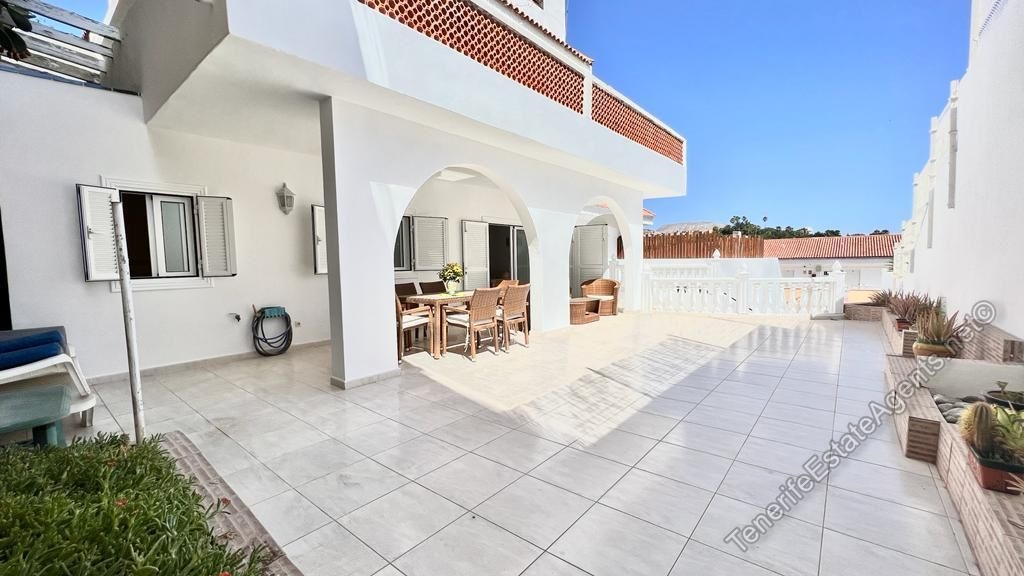 Property Details
Type: Bungalow
Area: San Eugenio
Complex: Private
Price: 345,000€
Mortgage available: 242,000€
Mortgage per month: 1,170€
Cash deposits needed: 141,000€

Interior m2: 110
Exterior m2: 110
Bedrooms: 3
Bathrooms: 3
Balcony/Terrace Terrace
Garden: Tiled Garden
Community Fee per month: NO

Property Photos
3 Bedroom 2 Bathroom Bungalow property for sale in San Eugenio
SOLD! By Gordon Steen – It was an excellent property at a sensible price. Looking to sell a property in the San Eugenio area?
Call us now to discuss a high quality, effective marketing plan for your property – (0034) 671 114 013 – we get results!
Or, want to know when we list the next well priced property here? Fill in the form below and you will be the first to know.
This bungalow is not part of a community so, no community fees! Really well priced for a 3 bedroom property, walkable to all the resorts, it is close to the Quiron medical centre in San Eugenio Bajo, if you know where that is – just over the bridge. Its a short 5 minute walk into the centre of San Eugenio Bajo.
The interior measures 110 m2 and the total plot size is 110 m2. There are some steps up to the property from the entrance so if steps are an issue, this one isn't going to work for you, otherwise, this is a really good opportunity to get a good-sized 3 bed property at a knock-down price when compared to apartments in this area.
There is a spacious open plan lounge, dining area and kitchen. As well as three well-proportioned bedrooms. And there are two bathrooms and toilet.
Outside you have a large sunny terrace, with enough space to install a swimming pool and spa. This property could be licensed as a touristic rental if you are looking to rent out. Its large enough to live in long term if you are relocating or thinking of spending a few months at a time here and because of its proximity to San Eugenio, you dont need a car to get around.
The San Eugenio area is a mixed residential – holiday area. Close by you have the beach which is only a five-minute walk away in front of the H10 Casino. There is a large supermarket 3 minutes away and the Las Americas bus station is just a 5-minute walk away as well, meaning you can take the bus to and from the airport when coming and going and also to anywhere else on the island.
Get in touch if you´d like to see this one – its unlikely to be on the market long and I have nothing else like this so when its gone, its gone.
For more information and to arrange a viewing simply fill out the form below or give me a call on (0034) 671 114 013 and I will make the arrangements for you.
Make an enquiry about this property