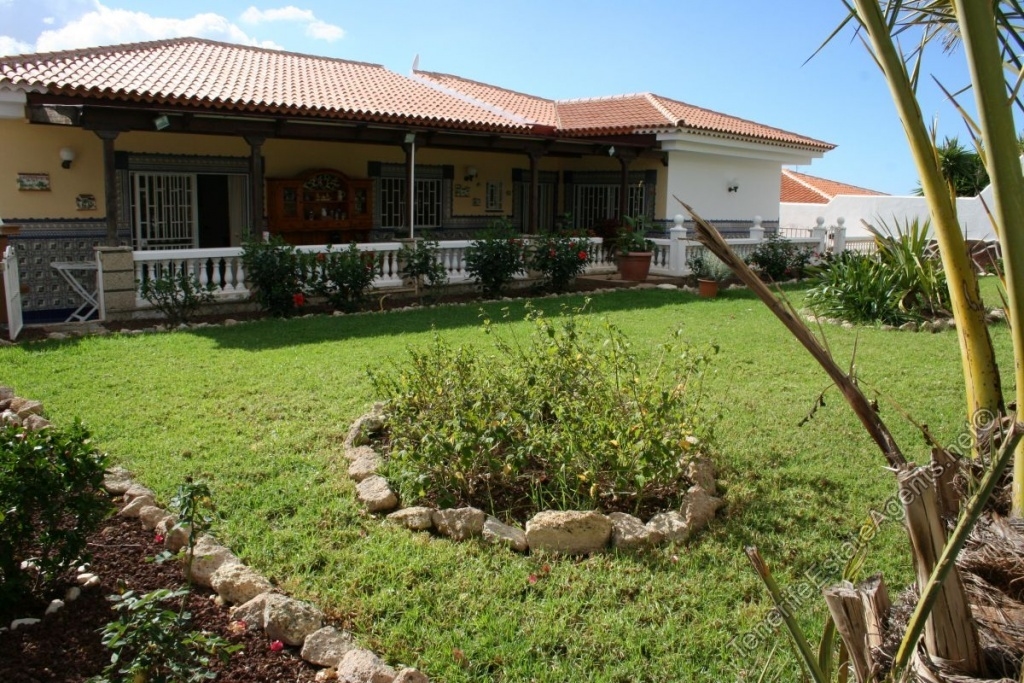 Property Details
Type: Villa
Area: La Florida
Complex: N/A
Price:
Mortgage available:
Mortgage per month:
Cash deposits needed:

Interior m2: 270
Exterior m2: 650
Bedrooms: 3
Bathrooms: 2
Balcony/Terrace Yes
Garden: Yes
Community Fee per month: None

Property Photos
3 Bed, 2 Bath Villa For Sale with Garden, Terrace, Sea Views, just 10 minutes from Los Cristianos in La Florida / Valle San Lorenzo – SOLD!
Looking for a large property in a great location? Walk-able to all amenities, away from the resorts but with fast access to everything? This is the property for you! A fantastic 3 bedroom villa, situated in the rural residential area of La Florida, near Valle San Lorenzo. It really is superb value for money!
The villa is set out on one floor so is ideal for anyone with mobile difficulties. You enter the villa from street level directly in to the spacious living/dining area, the living area being towards the front of the property and the dining area towards the back. This dining area has direct access through patio doors to the extensive gardened area where you will also find a good sized terrace ideal for outdoor entertaining. The main kitchen is an open plan fully fitted and equipped kitchen which adjoins the dining area. There are three bedrooms on this property, the main bedroom having its own dressing area and en suite bathroom. This property has its own underground garage for 2 cars.
The villa has extensive gardens and is large enough to install a swimming pool in as have most of the neighbouring villas.
The property is located close to (within walking distance of) the centre of the town of Valle San Lorenzo where you have banks, restaurants, shop`s, cafes etc. There are good public transport links here with regular bus services running to the resorts and the British Wingate School is just a five-minute drive away, as is the largest hospital on the Island. Just a 10-minute drive away are the main resorts of Los Cristianos and Las Americas making this a nice, quiet location but within easy reach of nightlife and the beach.
Viewing arrangements
Viewings are reasonably easy to organise, so if you´d like to take a look at what this exceptionally well-priced property has to offer, simply fill out the form below or give me a call on (0034) 671 114 013 and I will make the arrangements for you.
Make an enquiry about this property