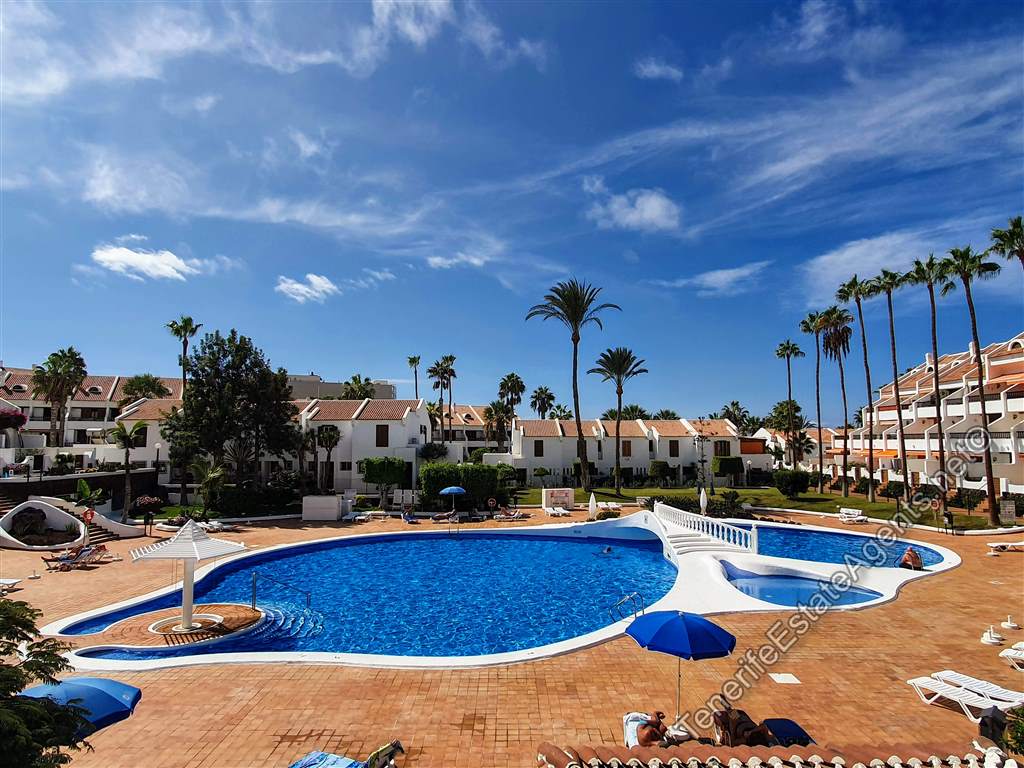 Property Details
Type: Apartment
Area: Playa de Las Americas
Complex: Parque Santiago 2
Price:
Mortgage available:
Mortgage per month:
Cash deposits needed:

Interior m2: 73
Exterior m2: 43
Bedrooms: 2
Bathrooms: 1
Balcony/Terrace Terrace and Balcony
Garden: No
Community Fee per month: 200€

Property Photos
2 Bed Ground floor Duplex Apartment For Sale Parque Santiago 2 – Off the market – no longer for sale.
Set over two floors, this 2 bedroom apartment in Parque Santiago 2 has a large, spacious ground floor terrace as well as a balcony on the first floor.
The apartment has been refurbished and modernised throughout and is rented to tourists all year round. It is very popular and excellent as an investment with solid cash flow from the repeat bookings – more information on the bookings and income are available on request.
On the ground floor, you have the lounge with the kitchen to the rear. From the lounge, patio doors lead out onto the terrace, the terrace is sizeable with a dining area at one end and comfortable outdoor furniture. Also on the ground floor there is a toilet.
Upstairs there are two bedrooms, one of which has a balcony and a double bed. There is a family bathroom on this level with a walk-in shower and washing machine. The second bedroom has a double and single bed. In total, the apartment can comfortably sleep 6 people. There is a dining table for 6 in the lounge as well as a second dining area outside on the terrace.
Air conditioning has been installed with units in the lounge and in both bedrooms.
The interior of the property measures 73m2 with a total of 43m2 outside. Community fees are 200€ per month.
Parque Santiago 2 is one of the most popular complexes in Playa de Las Americas. It is central, close to everything with a myriad of bars, restaurants, and shops all around. It is a front line complex just a few metres from the sea. The communal areas are maintained to a high standard and there are no restrictions on holiday letting. This last point is what makes these apartments so sought after. With such high demand and no restrictions, these are some of the best holiday investment properties you can buy.
To sum up, this is a large, refurbished apartment with a generous amount of outdoor space, on one of the most popular and central complexes in Las Americas, with excellent rental income.
Viewings must be organised in advance as the apartment is almost always occupied so please fill out the form below or give me a call on 671 114 013 if you´d like to take a look.
Make an enquiry about this property