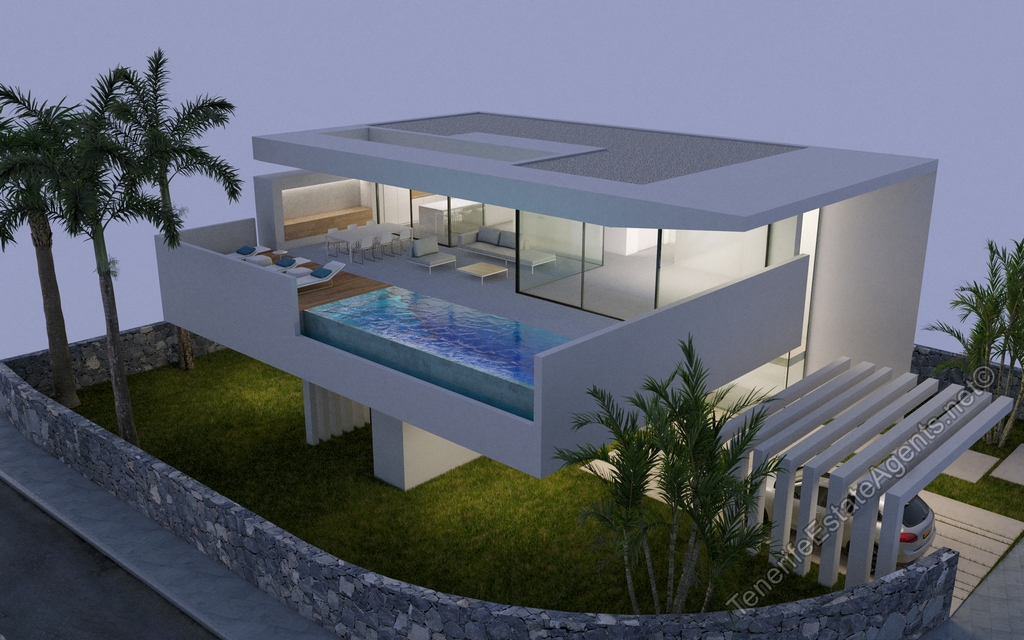 Property Details
Type: Villa
Area: Callao Salvaje
Complex: N/A
Price: 1,150,000€
Mortgage available: 805,000€
Mortgage per month: 3,880€
Cash deposits needed: 475,000€

Interior m2: 250
Exterior m2: 523
Bedrooms: 4
Bathrooms: 4
Balcony/Terrace Both
Garden: Yes
Community Fee per month: N/A

Property Photos
4 bedroom, 4 bathroom Stunning luxury Villa for sale in Callao Salvaje
This villa is not only an exclusive new design, built with top quality materials, but it is also in one of the best areas of South Tenerife and has incredible sea views over the South West coast of Tenerife and out to the neighbouring island of La Gomera.
What sets this villa apart from so many other high-end properties currently on the market is that this one is priced to sell. If you view 3 or 4 other villas in similar areas, you will find most are 400,000€ to 1 million Euros more expensive.
The villa is over two floors. On the ground floor there is a large entrance hall. Off the main entrance, there are four bedrooms all with built-in wardrobes and luxury en-suite bathrooms. Each bedroom has direct access to extensive terraces and gardens. There is also an elevator to the first floor.
On the first floor, you have a large, bright lounge and a fully equipped modern kitchen. Off the lounge and kitchen are extensive terraced areas and an infinity swimming pool. Perfect area for outdoor entertaining or soaking up the sun.
This villa is located in Callao Salvaje. Callao Salvaje is regarded as having some of the best weather on the island and is just a 5 minute drive from the South motorway and around a 20 minute drive from the airport.
Nearby you have plenty of shops and supermarkets as well as a large beach and long coastal walkways.
The construction time of this villa project is between 12 and 15 months and we have some more information about the materials and interiors we can send to those who are interested.
Fill out the form below or give me a call on 671 114 013 if you´d like to take a look – this will not be on the market for long!!!!
Make an enquiry about this property